Accommodation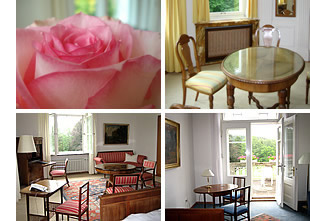 The tastefully furnished rooms boast glorious views of the lake, the parkland, or the Alps. The park and surrounding woodland extend an invitation for relaxing and invigorating walks.

We also recommend a refreshing swim near the village of Ambach, which is a mere twenty minutes' walk and lies on the eastern shore of the lake.

Standard rooms (cat. II) include a wash basin in the room and a shared bathroom on each floor.

The luxurious category I rooms are especially spacious and feature en-suite bathrooms.

Participants wishing to share a double room should send a joint application.