Masterclass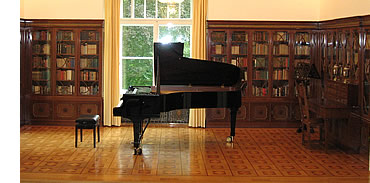 Since 1999, an international masterclass for piano, with Prof. Hans-Jürg Strub, takes place every year at Weidenkam Castle (Bavaria, Germany) near Lake Starnberg. In previous years, participating musicians came from Germany, Switzerland, Austria, Poland, Bulgaria, Georgia, Korea and Japan.

The course open with a piano recital in the atmospheric ambiance of the grand hall of Weidenkam Castle. In addition to the tutor, Prof. Hans-Jürg Strub, several interpreters from Japan and Georgia have played the opening concert of the summer-course, which is quite well established in Bavaria.

During the two weeks course, approximately 20 pianists work on their repertoire prepared especially for the course. Participation of chamber music ensembles is also possible. Selected participants will perform the closing concert of the course in front of a large audience.

Participation is possible in several categories:
Course A: Undergraduate and graduate pianists (including piano duos and chamber music ensembles with piano) at a high professional level

Course B: Piano teachers wishing to refresh their professional approach to piano playing, young students of an advanced level and amateurs

Listeners: Non-active participants. Music enthusiasts are invited to spend a few relaxing days at Weidenkam Castle, where they will be surrounded by piano music.

Participants in every category have free access to all lessons.